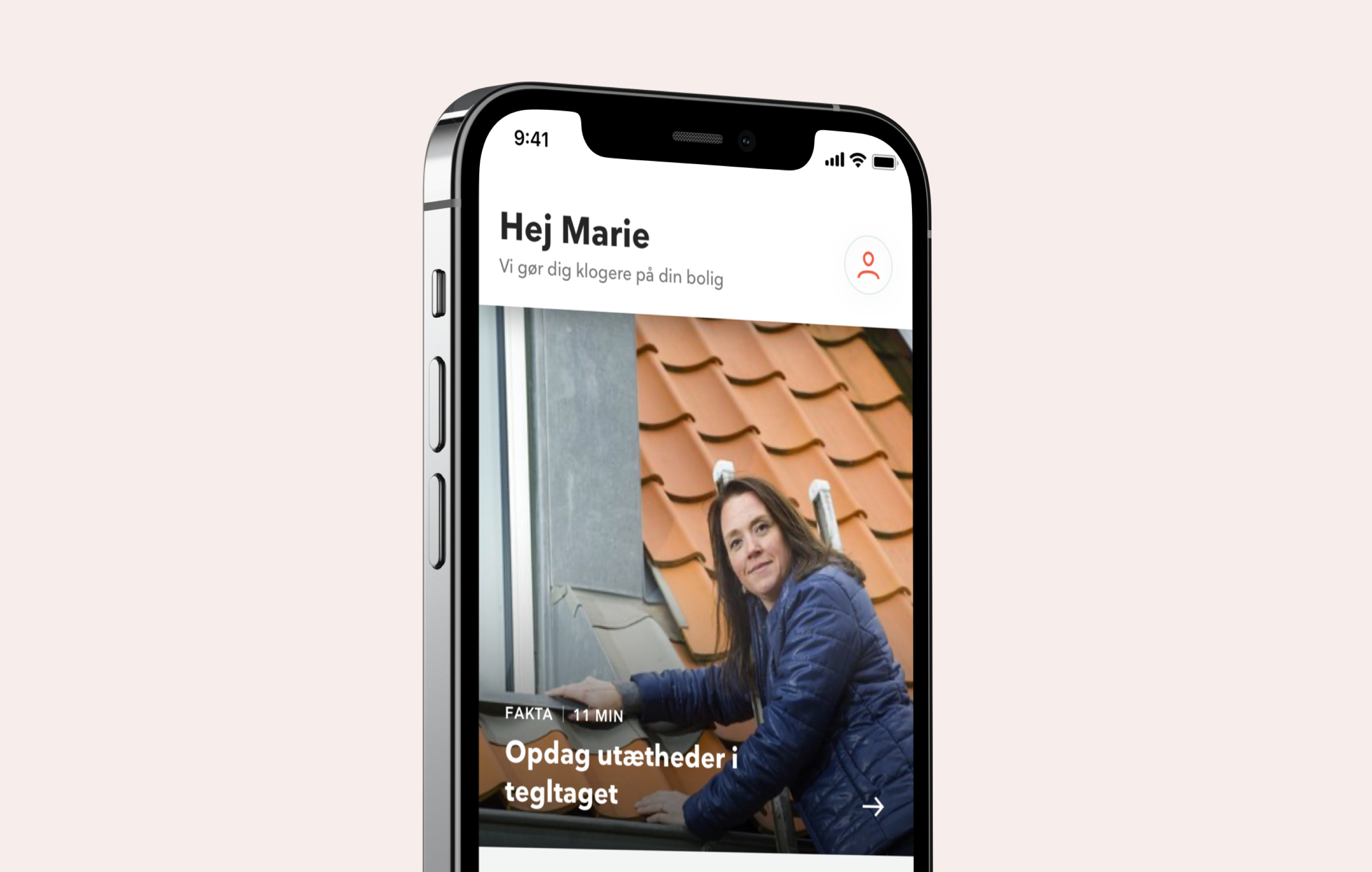 The new Bolius app is an impartial partner for homeowners and tenants that offers guidance during their home ownership as opposed to financial institutions, home improvement stores, real estate agents etc. The mission is to provide you with a personalised app, catering to your needs and interests, that give you the necessary tools and knowledge about your home in order to make life as a homeowner or tenant a little easier. This way the app will be your own personal first-party universe when seeking guidance and information, freeing you from having to sift through information on e.g., Google. The personalised app also enables Bolius to make the individual the point of departure and build a closer connection with the individual user.
Bolius produces a lot of content for its readers and generally has a lot of flow through its website on a daily basis, however, it is evident that this traffic mainly comes from mobile with the majority of the overall traffic. With this majority visiting via their mobile phone, Bolius has an opportunity to provide its readers with an even better, more personalised experience, adding even more value. Additionally, they saw a tendency for the visitors to seek very specific material resulting in over 70 % to only look at one page and searching through other search engines as opposed to Bolius' own search function, making the need for a first-party universe highly relevant and clearly sought after.
Trillions of questions and queries go through Google each day and when it comes to home improvement projects and home maintenance, many people seek help and inspiration from websites, YouTube videos and Social Media. This need is now being met with the new app from Bolius, providing us with the assistance many of us seek when becoming homeowners, focusing on the part of the buyer journey after purchase, when renovations and maintenance begin.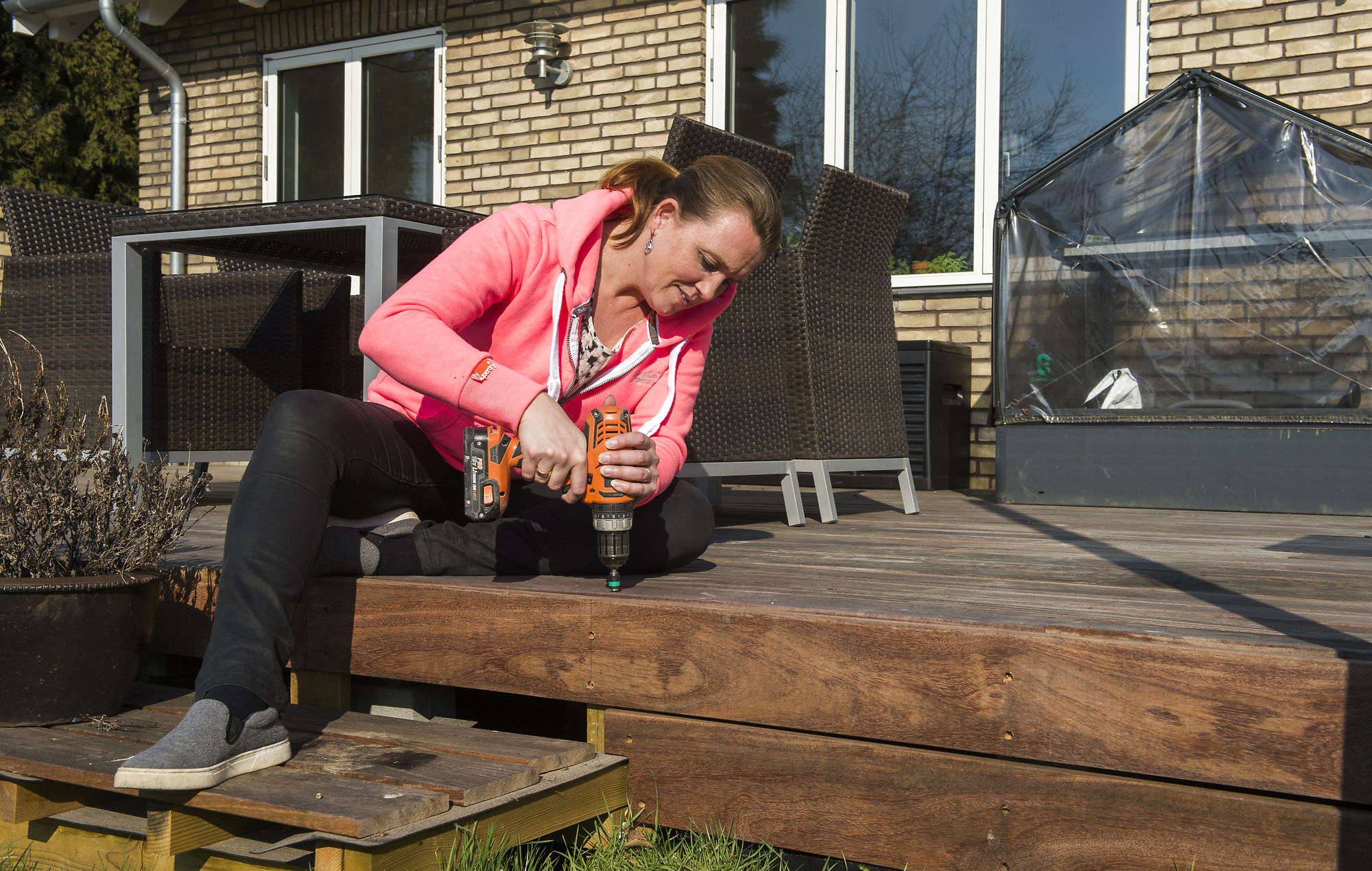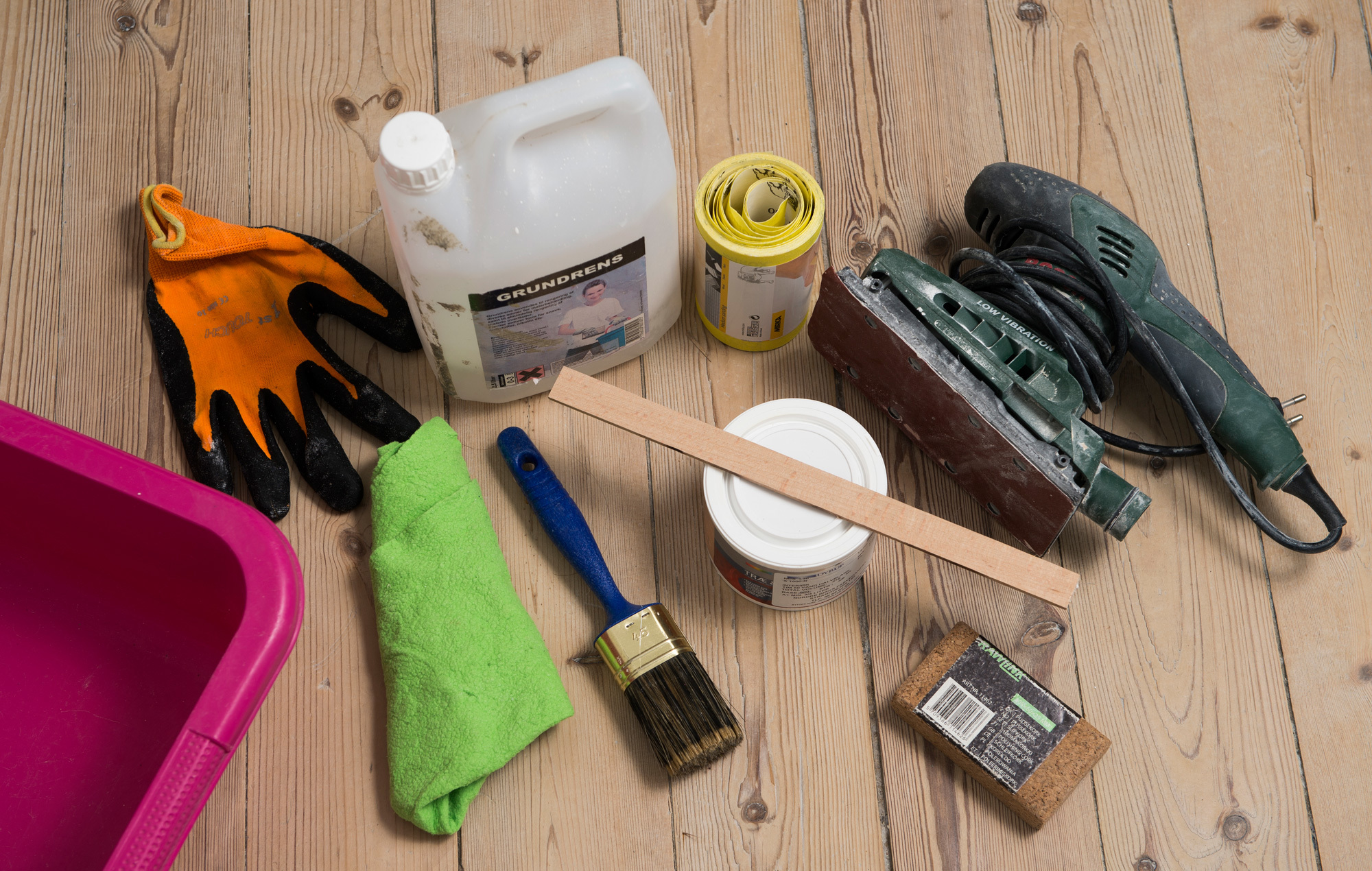 From Strategy to Execution: Keeping a tight focus
From the mobile strategy based on personalised tools and contents, a number of core concepts has been defined as necessary for the Bolius app to gain traction.
This was done after ranking a long list of possible concepts that were deemed relevant for the target audience focusing on the elements that bring the biggest value. From this long list, only a small handful was selected for the initial release. This approach often works much better as scope creep is one of the worst enemies to doing something that will actually work.
It's simply more effective for a new, digital product to provide a very focused experience. Especially for users who tend to be looking for a few needs to be solved at any given time and not a whole bunch of unmanageable features all the time.
After the launch, other concepts can and will be implemented as the user base grows and more features then become scalable and sought after.
The Core Concept and Functionality: A Personal Home Assistant for Maintenance
The before mentioned initial concepts matching the intended positioning and value proposition are these:
1) User Profile not only with a name and log-in but also with indications of which interests the individual has in terms of e.g. indoor climate, garden, energy savings etc.) This is the basis for any personalised experience. The functionality makes sure that we get a clear picture of the user's preferences and only asks about interests that matches the content tags. As we expand the relationship with the user, we can introduce more data points which could be applied across channels to add more value.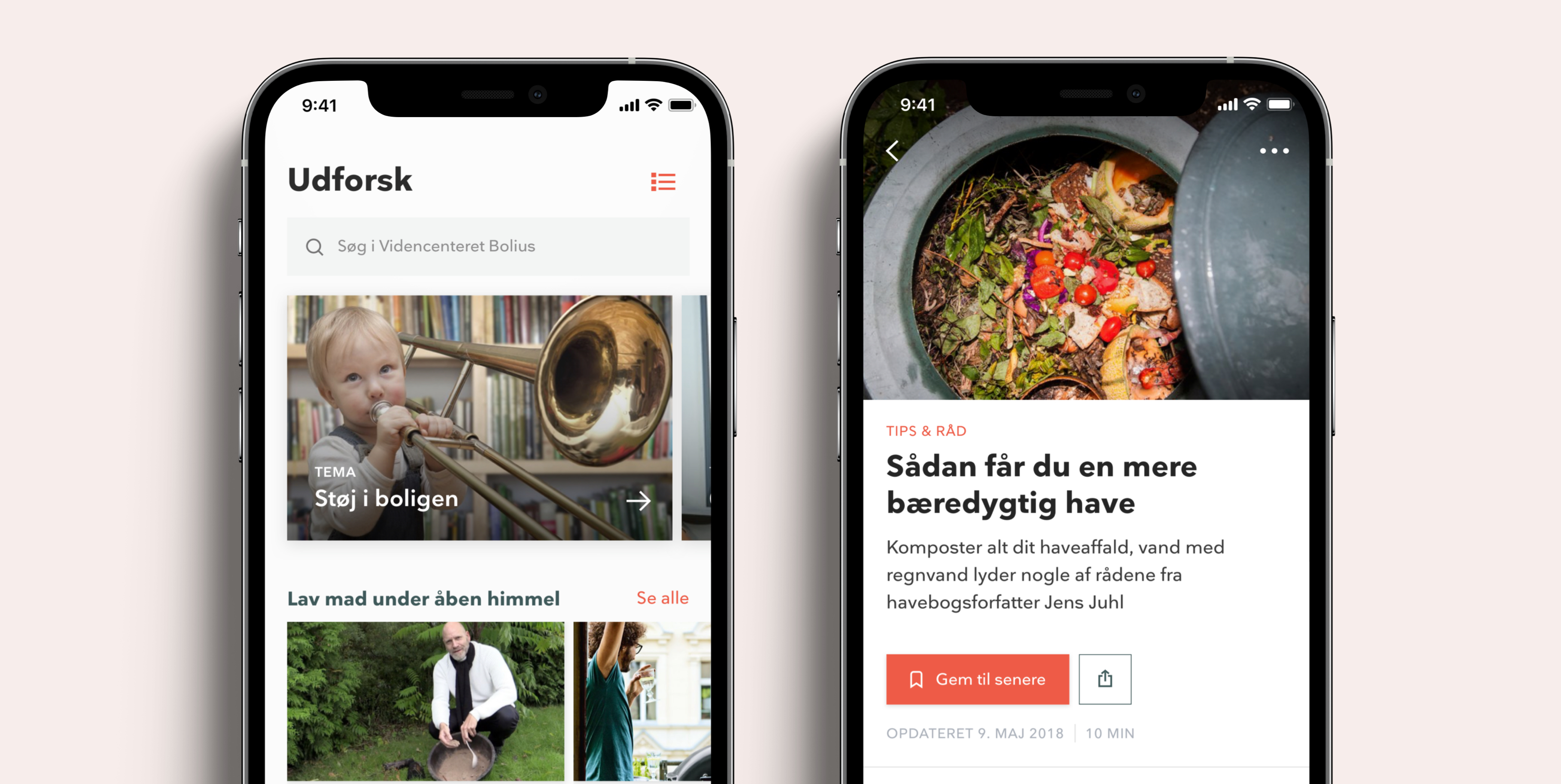 2) Home Profile where the data is sourced directly and automatically from public sources when the user provides the address. The user will be able to create one or several profiles if they perhaps own both a house and a cottage. Later on the user can always correct or add more information to the publicly available data.
This data gives Bolius the opportunity to understand the user's current living situation and provide relevant news and personalised information.
3) Personal Assistant that provides an overview, schedule and automatic notifications of all the renovation and maintenance jobs which are recommended for taking proper care of the home from season to season. This concept makes the Bolius app relevant both all year round and from year to year. As such, it creates exactly the kind of "stickiness" that we're looking to achieve in building user relationships, while adding a layer of push communication, which can active or re-activate the users – something you need to do well when developing apps.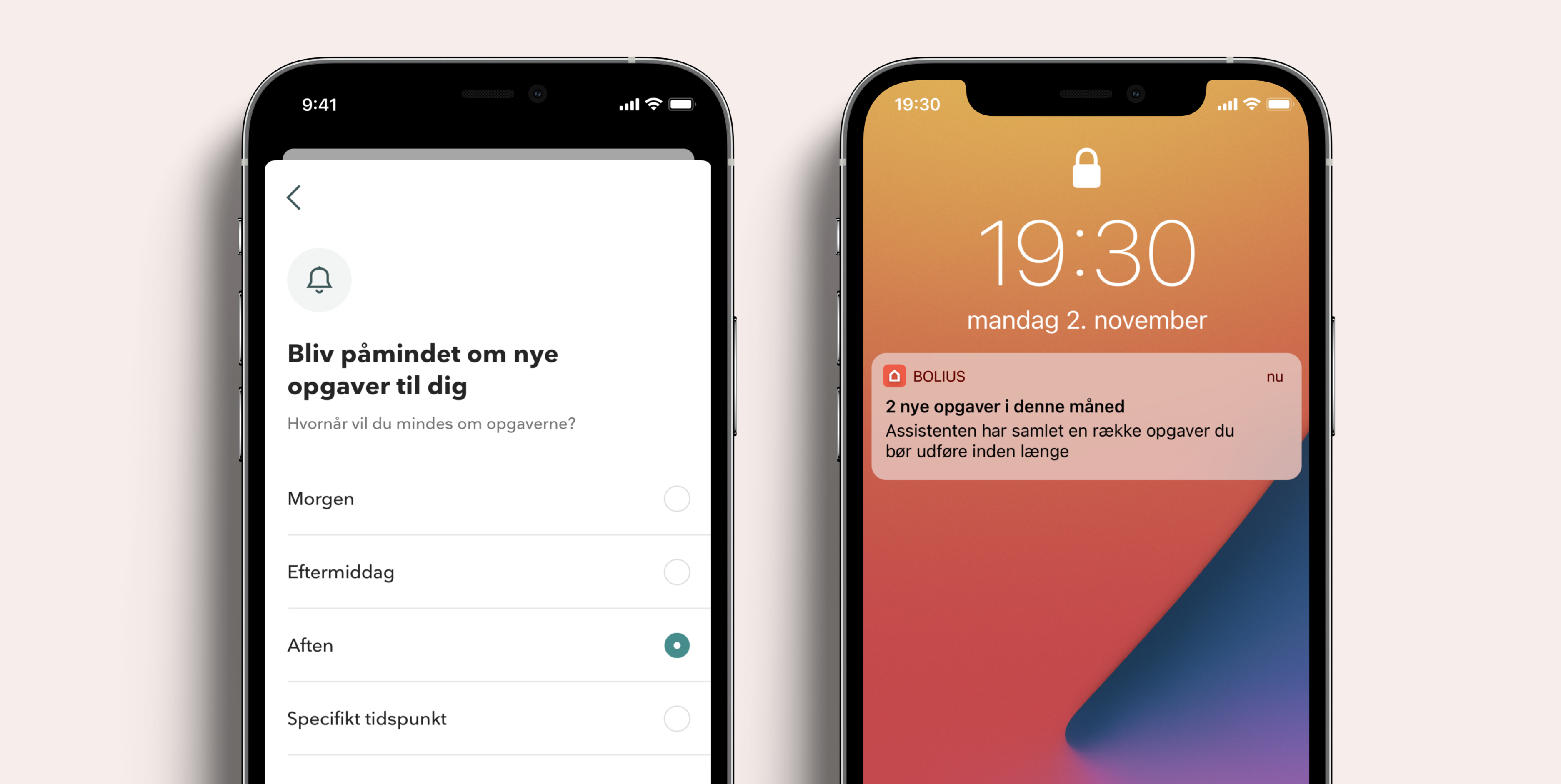 This Assistant is by definition also personalised as it only displays contents based on the user and home profile. If you live in a city apartment with no garden, then garden projects are probably not among the things you do very often. This feature makes the Bolius app relevant all year round.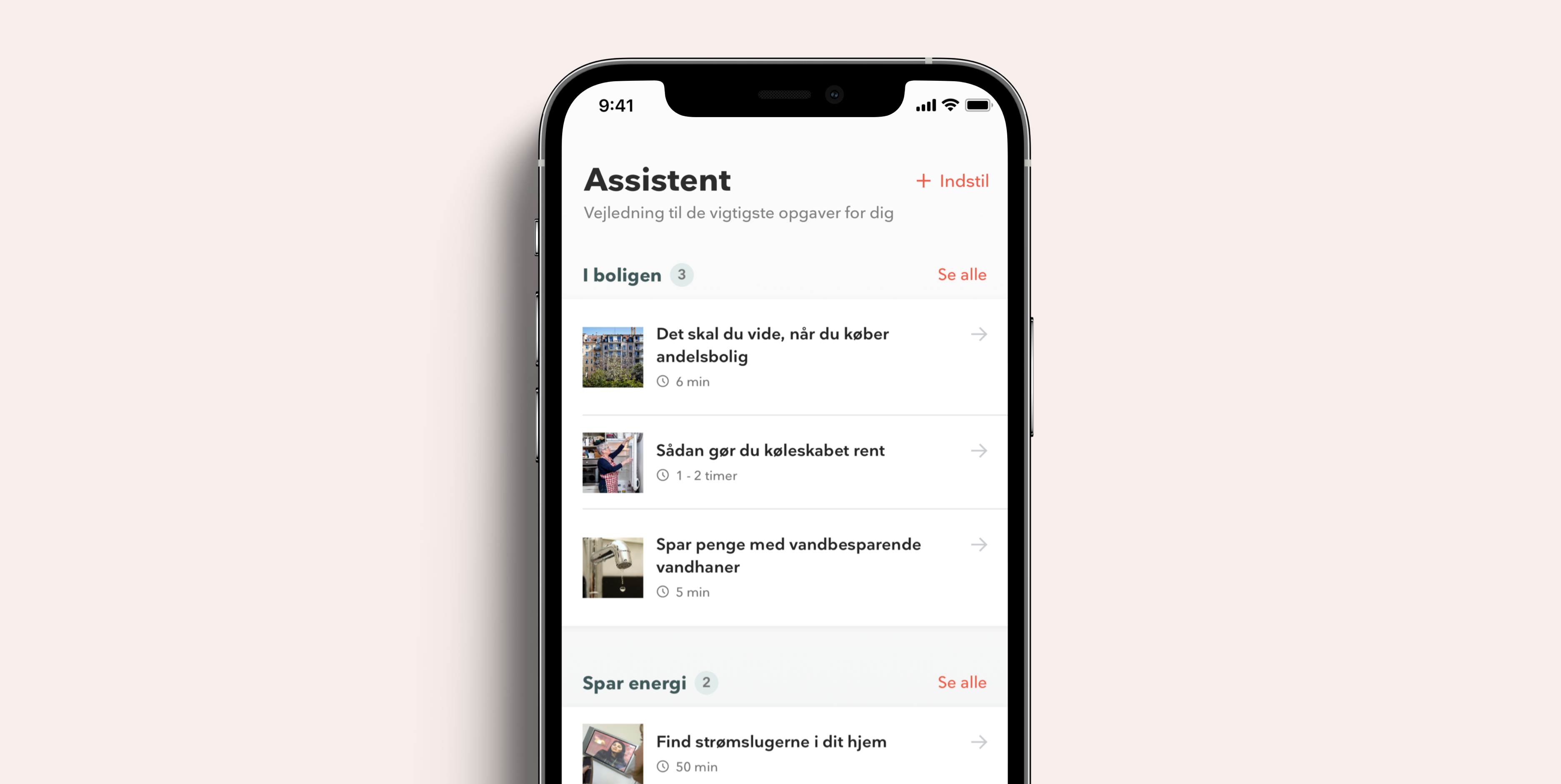 The user will later on be able create their own projects from the calendar and link them directly with the helpful content that provides knowledge and guidance.
4) Projects from the Assistant are typically seasonally determined content themes or campaigns supported by articles, videos, how-to guides and checklist. This content will assist the users in getting inspiration – and most importantly, get the job done.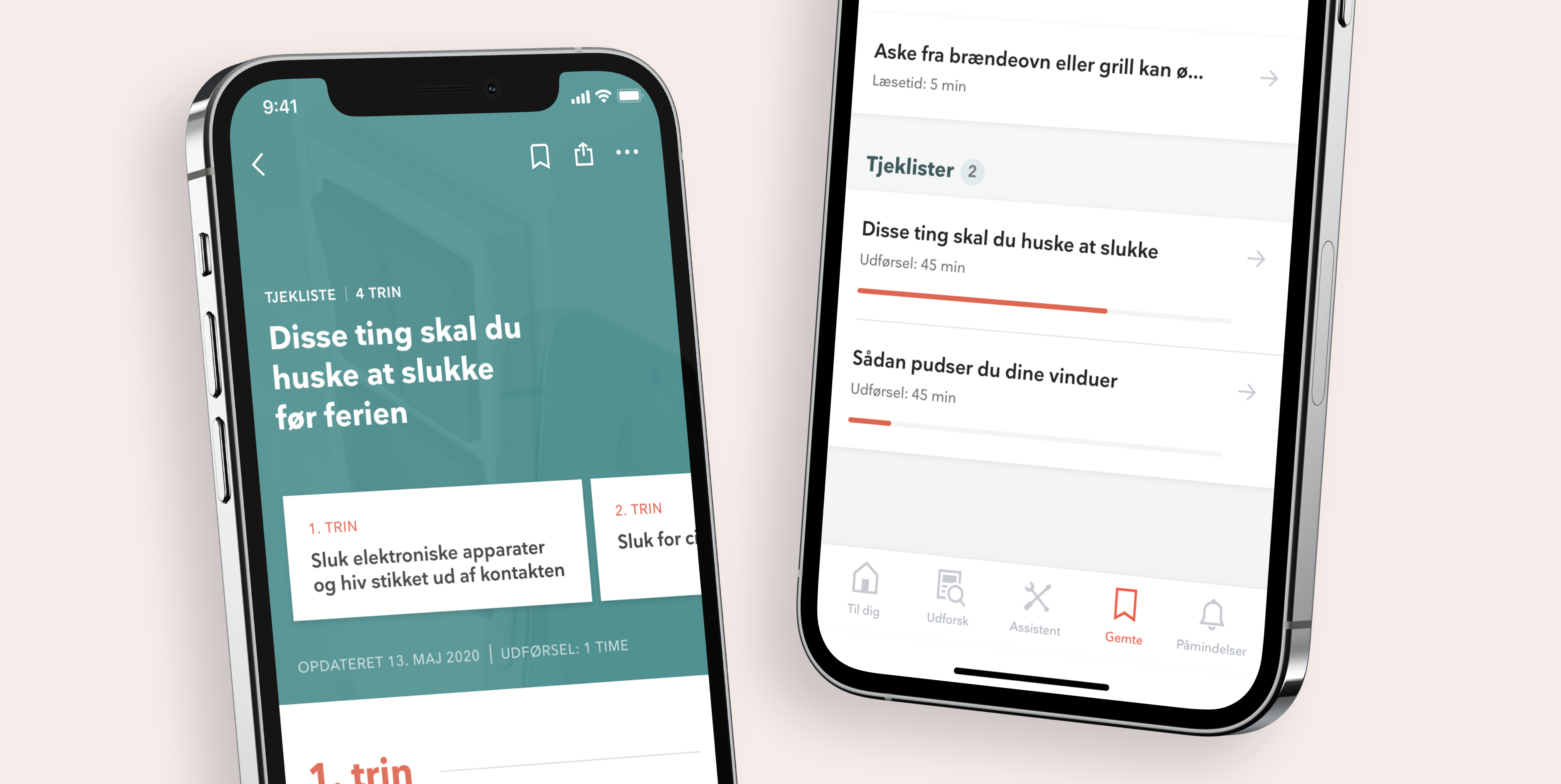 Most users have a particular job in mind when they're looking for information and advice. In Projects they will always find a reliable guide – and they can choose to not only bookmark but also set a time any piece of content for when they would like to view it.
Together the Assistant and Projects make it possible to have a digital – and very personal - assistant in your pocket for taking care of homes and gardens. Not just when the homeowner gets around to thinking about it, but when it's about time to do something about it – outsourcing the complete overview of your maintenance. And Bolius gets to have a knowledge center that is constantly activated on a more personal level due to the closer relation they create with the app users, offering a much higher relevance and usefulness than is otherwise possible when users are searching websites with more generic content.
Taking these concepts to the next level in future releases are already planned out. As the new app will hopefully become an indispensable tool for many users, opportunities abound as many more homes will have a "service / maintenance record" just like we see in the sales of used cars.
Take a closer look at our work here