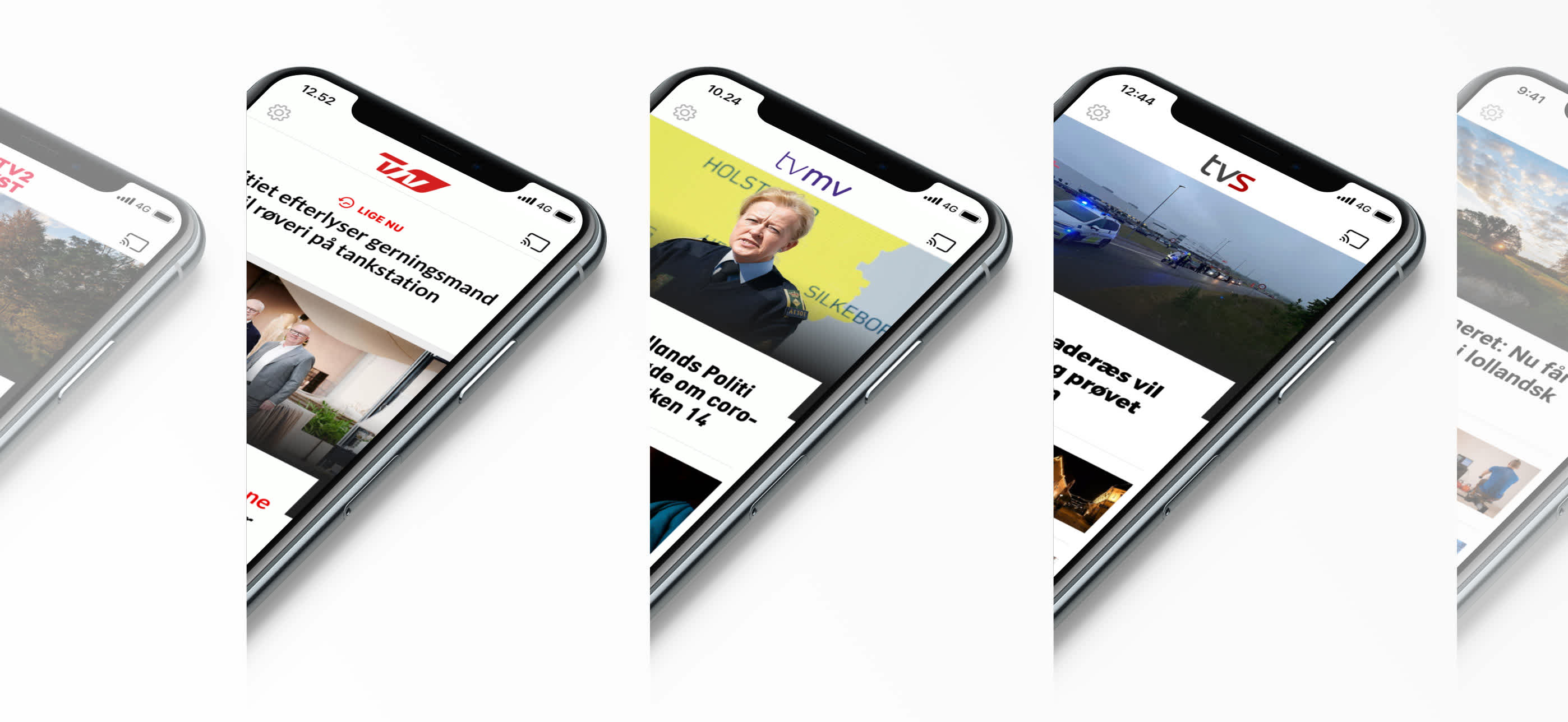 TV2 Regions offers the best way for their users to get local news anywhere in Denmark and re-discover what makes their region special.
With their own journalistic coverage, regular news broadcasts, and local TV series, the local TV2 Regions channels are today the most popular source of regional content across Denmark. In close collaboration with TV2 Regions, Shape has developed a flexible white-label and app-centric solution that facilitates two universes for news and streaming, respectively.

At the essence of the TV2 Regions journalistic coverage lies the news apps; Built on a native and modular system, the apps look and feel uniquely made for each Region. Through an immersive daily news feed, the users have access to all the noteworthy happenings from their local areas in the form of articles, live blogs, videos, and new broadcasting. By adopting a component-based UI approach, each region has great editorial freedom to tailor and drive the app based on its own editorial direction and resources. The news app is delivered to seven regions across iOS and Android as well as for both smartphones and tablets – this results in a total of 28 news apps powered by the same white-label architecture.

To further meet the increasing consumer demand for streaming in a cost-effective way, a streaming universe has additionally been created leveraging the same infrastructure, module engine, data model, and integration layer. The solution delivers on-demand broadcasts to the smartphone as well as in the living room via Apple TV and Android TV. This makes up 16 apps in total in addition to the customizable 28 news apps.

Put together, a total of 44 apps are orchestrated through the platform. To make this possible, a layered architecture with headless CMS delivers content to an app-specific backend that largely controls how the app behaves.

This allows changes to both layout and content to be implemented without an app update and with fast time-to-market. All the regions' apps share the same code base on each platform (Android and iOS), making it possible to achieve synergy effects between the different regions, while also ensuring a rich functionality and individualized user experience.
Average user rating out of 5000+ reviews.
Average session time per user.
Average sessions per month.