ALLY: A new business model
Danes spend an average of seven hours on media - every day*. Media consumption forms a large part of our lives, and is a source of both entertainment and information. Within the past century, technological development has driven a gradual change in the way we view, listen to and interact with content. Digital media is increasingly gaining ground and placing traditional media such as flow TV and radio in the background. Young people in particular prefer streaming of both TV content, films, radio and music, and it is estimated that approximately 77% of their audio sources alone consist of online media such as digital music services, YouTube or podcasts**. With an ever expanding offer of digital services, there is no media today that can stand alone as the newspaper, radio or TV did before digitization took off. The result is a diverse media landscape with a myriad of media in fierce competition for our time and attention. This creates both new opportunities and challenges in one, since digitization can threaten the way established media companies do business – and either lead to decay or renewal.
In Aller Media, this fact has been the driving force for internal change and innovation. 140 years of company history as Denmark's leading publisher of analogue magazines and newspapers has since led to Aller's most ambitious digital strategy; the launch of Aller's first pure digital universe of original content, the ALLY app. The vision has been the creation of a new, modern media that should both meet future media behavior and at the same time pave the way for a unique position in the media landscape. ALLY does not only represent a digitized medium, but has involved the creation of a new service and a completely new brand with its own justification in the digital space. With a significant decline in magazine and weekly readership since 2010, ALLY is an important strategic alternative to print and the first major step in a new direction that will ensure the relevance of the Aller Group in the future.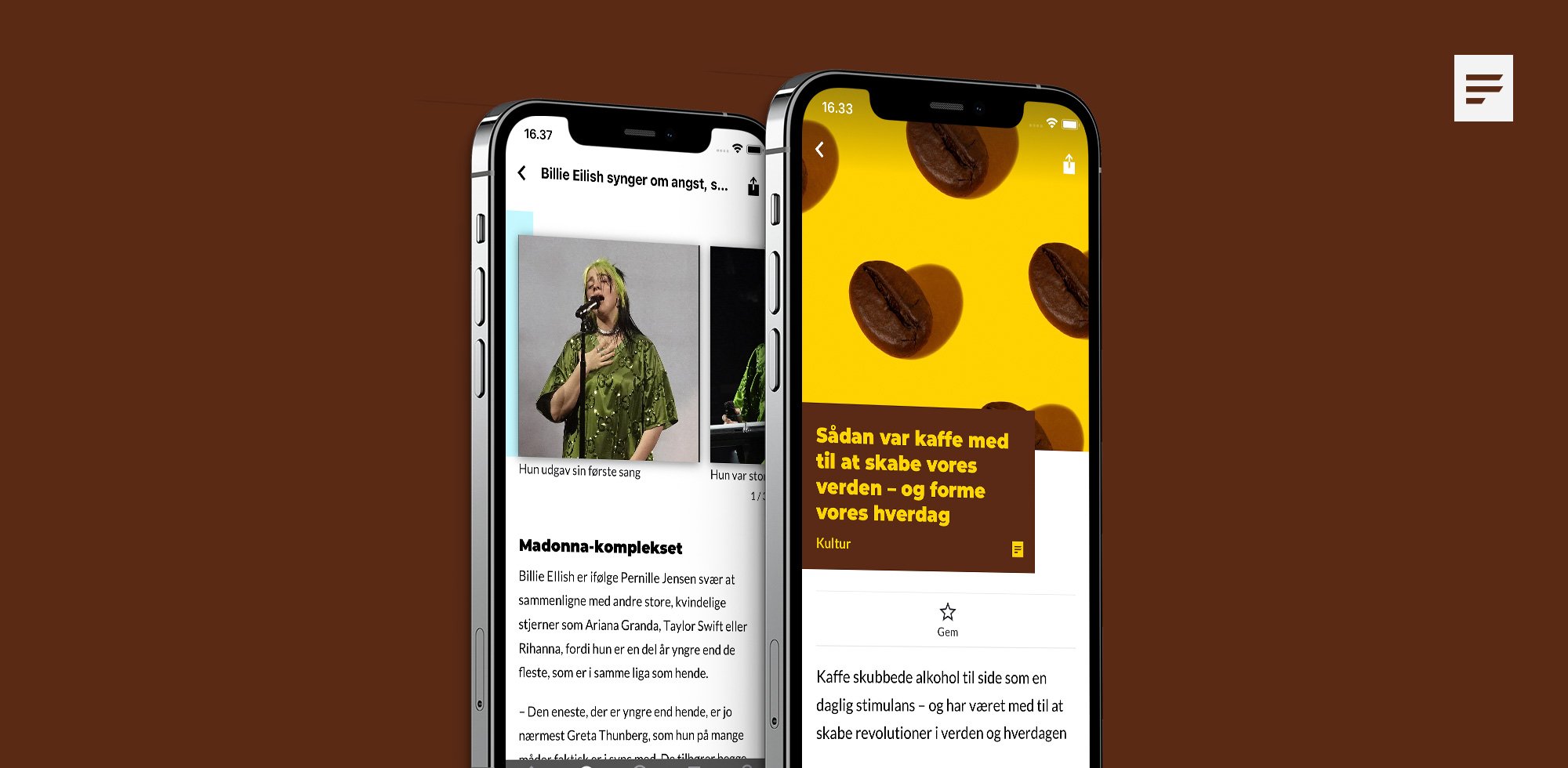 The strategy has only become more relevant within recent years with strictures and increasing requirements for privacy protection that have had a significant effect on the advertising market. With the launch of iOS 14.5 in the spring of 2021, the opportunity to profit from the digital ad networks has fallen sharply, and this year Google is following the example. This poses a further challenge for the Allers Group's existing brands, whose revenue comes partly from the digital advertising market. This emphasizes the importance of the creation of first-party relationships, whereby an increasing conversion to a subscription-driven business is essential for Aller's future success.
Solution
With ALLY, the consumer not only subscribes to one type of content, but gets access to a wealth of original content in a three-dimensional media universe. With this, ALLY is not only Aller's first, purely digital brand, but also Denmark's first digital media, where podcasts, video and reads together enrich the communication in an intelligent interaction.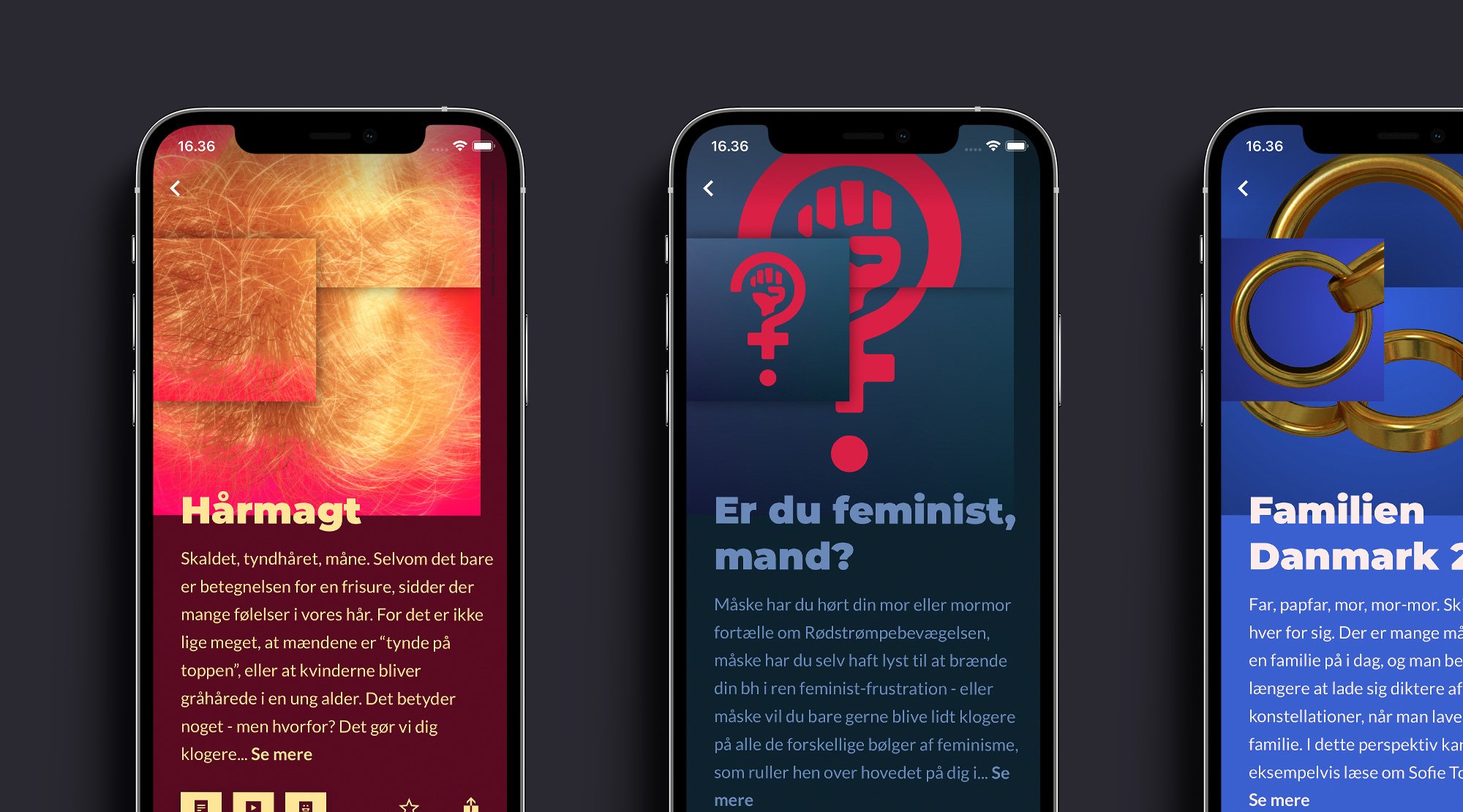 Concept
The ALLY app offers a unique experience with carefully curated content. A scroll through the app's front page gives the impression of a young and modern media with a modular structure, making it easy to find inspiration and delve into new topics across content.
By highlighting themes, curiosity is aroused to read, listen or see more, and with reading out articles, chromecast and CarPlay/Android Auto, the content can be experienced exactly as you prefer - whether you are on the move or in front of the TV at home. With this, the content becomes central to the user experience, with which the creation of an intuitive and user-friendly platform supports the good narrative and allows immersion in both heavy and light subjects.
The underlying idea of the ALLY universe is exactly that - a place where the meeting between entertainment and substance must engage and inspire, and where pop culture is presented in a larger perspective. With this, the content profile itself becomes innovative and constitutes a unique and meaningful alternative to the empty SoMe calories and the often superficial news update.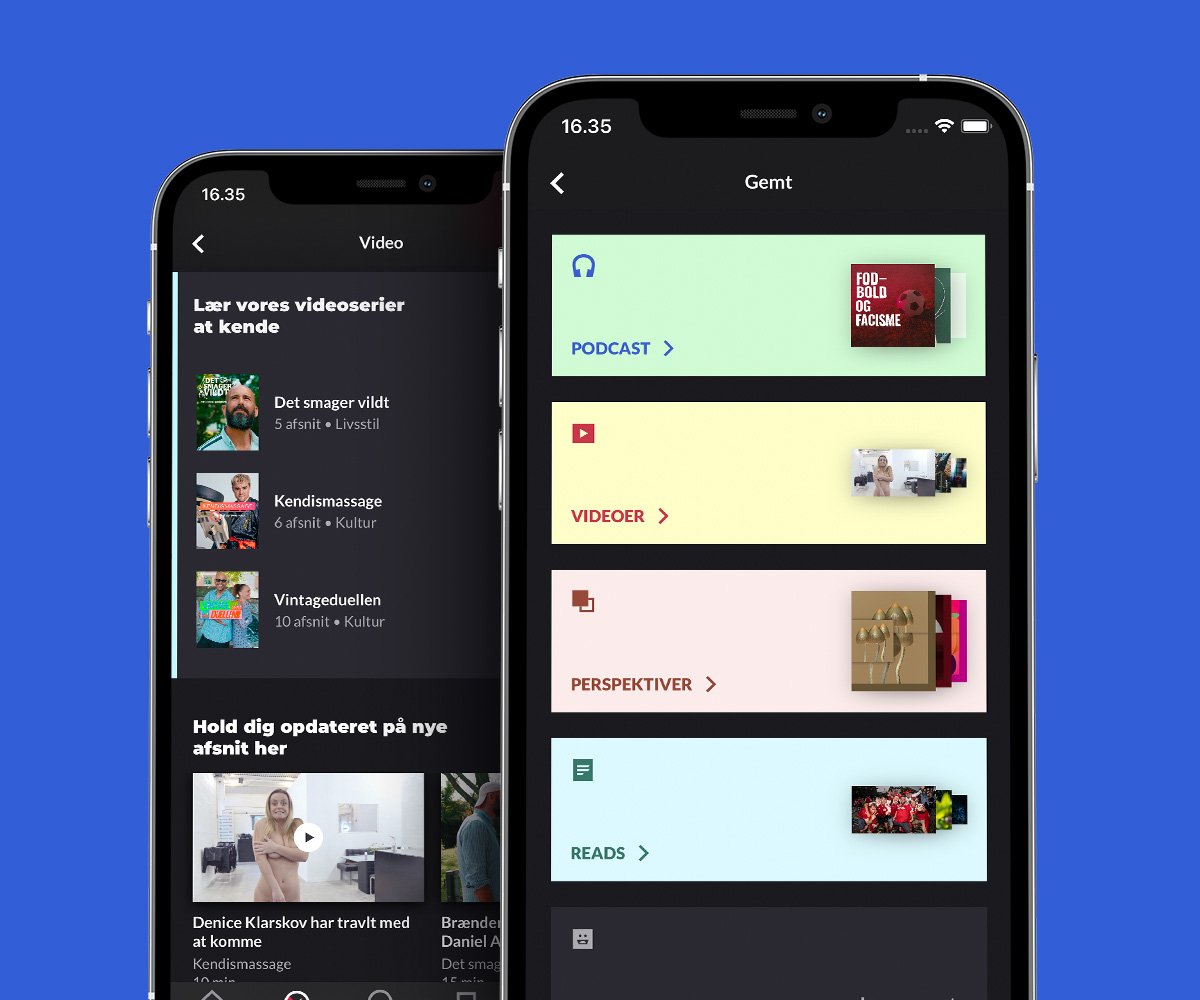 Business
The investment in ALLY has put change on the agenda with an effect on Aller's business model as well as organization. The decision has meant the first major digital venture with a business that is based to a greater extent on a subscription model, and has also had an influence organizationally.
With ALLY also came a sharp focus on expanding the digital content production, concept development and co-production with existing brands. The investment has therefore not only consisted in the development of a digital platform, but has provided a background of competences with a view to digital strategy and creative content production. With a new digital medium comes new tasks and more ends to be met; the learning has therefore also consisted in the development and administration of a new, modern CMS, which gathers the content types in the same place and organizes the content in the app.

Result
Since the launch of ALLY at the end of 2021, things have been going fast; the number of first openings of the app have increased 15% every month on average. Since launch, the app's original content has been read, played or listened to more than 120.000 times.
ALLY is also praised by the users for its exciting and funny content - among the favorites are "KIDDcation", which in a short time became ALLY's most popular video series and which humorously gives an insight into the rapper's life behind the facade. Recently, the top of popular content is concurred by "Mor 3.0", an authentic video series about motherhood along with the travel guide "1-5 Stjerner", a video show following two men with very different definitions of vacationing traveling to various places in Europe.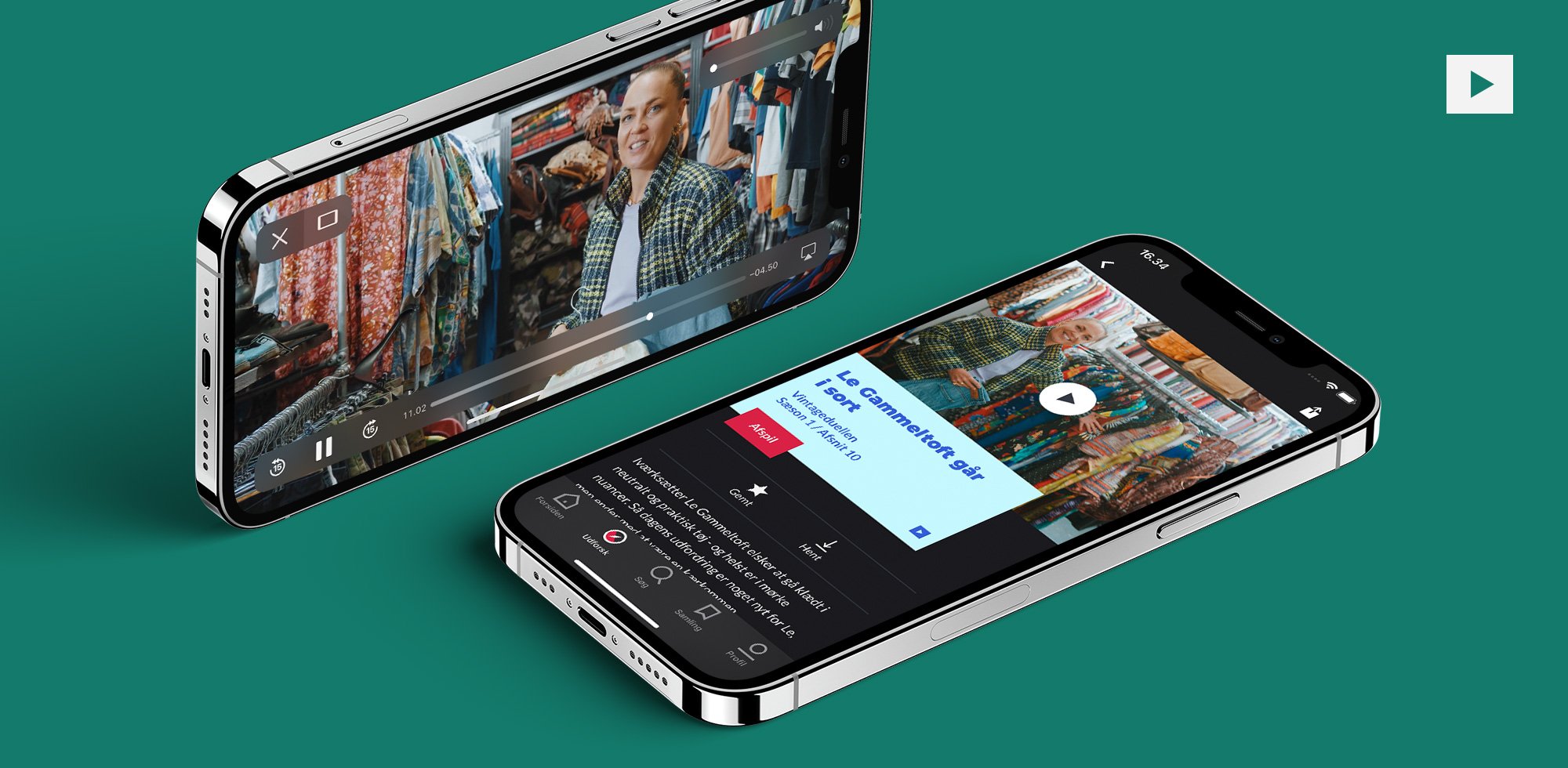 However, there is also room for stories about hard-tested dreams in the podcast series "De grønne grises klub", which instructively depicts the entrepreneurial journey of two women, and "Hvad er der nu galt", a podcast show hosted by a very open-heart and honest couple about relationships.
At the heavier end, a focus on a "Europe at war" has been a very popular Theme in ALLY, which sheds light on the current situation in Ukraine in a multi-format format.
The diversity of the universe's most popular content testifies to the many facets of pop culture and the demand for a medium that can accommodate them all.
The professionals
ALLY is also being recognized internationally and was thus one of the big winners at this year's Lovie Awards with not only a People's Lovie Award but also a Bronze Lovie in the category Apps, Mobile & Voice: News & Entertainment. This is a great achievement and emphasizes Allers new business direction as a strong offering and a serious supplement to existing big players in the market of digital media.
WOULD YOU LIKE TO KNOW MORE ABOUT THE CASE?
Reach out to the strategic lead, Sofia Riis Graae on sg@shape.dk
Sources
* DR - Vi bruger stadig syv timer på medier hver dag
** DR's rapport "Medieudviklingen 2021", page 27