He's a tall, young man, with a background in mixed martial arts and a love for adrenaline and motorbikes. Perhaps that sounds like someone, you wouldn't want to meet in a dark alley. BUT, iOS Developer Dawid Bazan is also the guy with the biggest smile in the Shape office and a genuine wish to help everyone and make them feel comfortable.
Originally from Poland, Dawid journeyed to the UK when he was 10 and stayed all through university, where he studied computer science.
"After college I took a year off from school and worked the help desk for a software consultancy and quickly discovered that wasn't my thing. Then at university we tried a little bit of everything from Android and Engineering to AI, and iOS just clicked, and I knew that was something I wanted to do more."
After university, Dawid landed a job with a startup working with smart technologies, but after a while, the possibilities of leaving England and try something new became more and more of a wish.
"After living in England for 15 years it just didn't feel right anymore. I've always wanted to experience a new country, so I actively searched for something outside the UK."
So why Denmark, you may wonder?
"I looked at places close to my family in Poland, and when I found Shape it just felt right."
Danish taxes are more shocking than the weather
It can easily become overwhelming moving to a new country, but when you're a seasoned mover everything becomes a little easier.
"I'm no stranger to moving. So that part doesn't phase me much. It's of course always nerve-racking to move to a completely new country, but Shape made it very easy to deal with all the documentation and set me up with a place to live while I found something more permanent."
And something permanent he found indeed. Dawid recently bought an apartment in Copenhagen, which means much of his free time is spent levelling out walls and installing a new kitchen.
"I really like Copenhagen, and I want to stay here for a while and put down roots. I like living close to everything in the city centre, and I really like the work culture. Work-life balance is no joke here, they really care about you, and they trust you to do good work. That's a little different than what I came from."
But surely there's something about Copenhagen that perhaps didn't give the best first impression?
"The taxes shocked me a little. I was planning to buy a car in Poland and drive it to Denmark, but the amount of taxes you had to pay to do that was as much as the car. So, I just bought a motorbike when I came to Denmark. Also, I love mountains, and there are clearly none of those here. But then I just travel – when that's possible of course."
When people move to Denmark, the weather is often the talk of the town and rarely a selling point, but for Dawid it wasn't an issue.
"It's not that different from England. Honestly, it may be worse in England, so that doesn't bother me."
Learning by doing
Why did Dawid decide on Shape, and how did he even come across it?
"I wanted to work in an agency. I came from a startup where I had to work on the same thing every day, and I really wanted to work for a place that offered more variety, somewhere I could develop in more than one area of expertise, and then I came across Shape. They work with many big clients and have a vast selection of interesting projects."
And Dawid quickly got to work on a whole new project from the beginning.
"I started out as an iOS Developer on the ALLY project and now I'm the Technical Project Lead. This project is kind of like my baby."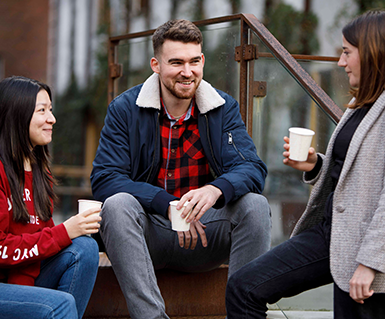 And what's the best thing about working on this project?
"There were so many new things that I hadn't tried before with this project. There were some fun challenges, and I have learned so many new skills, which is great. Also, the client communication has been a fun experience, and the release parties were a great bonus."
But surely it must be nerve-racking to talk to clients, when you haven't tried it before?
"Actually, I'm quite confident talking to the clients because there, I'm the expert. There are so many talented people around the office that sometimes I feel more pressure when presenting in front of them."
But talented people also mean many people to help out with questions or issues.
"You can always ask for advice. It's nice that we can learn from each other."
A trusting environment
The ALLY app officially launched on 1 November 2021, and is a new brand from the Danish publishing company Aller with different types of content.
"I have been overseeing the making of this app. Other than writing the code itself, I'm responsible for preparing the requirements, collaborating with sales, designers, QA as well as making sure we meet the deadlines and satisfy the clients needs."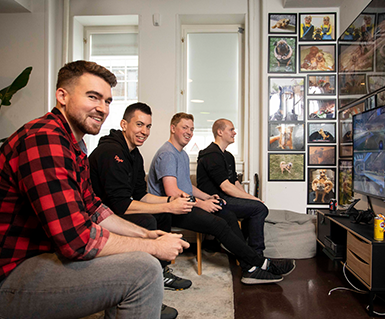 And staying on top of everything can definitely be a challenge, especially when the job is new to you.
"I've learned a lot on the job. And that's the great thing about being a part of a project like this. It's great that Shape trusts me to do a good job and gives me the big responsibility of overseeing an entire project. That feels really good."
Adrenaline, PlayStation, and Raspberry Pies
While the start at Shape came at difficult time to make new friends, because of a global pandemic, Dawid has still managed to get to know people around the office well.
"It's easy to fit in here. There are a lot of clubs and events that you can be a part of. I started a go-cart club, for other racing enthusiasts like me, and that's a lot of fun."
And speed on the TV also does the trick.
"I enjoy playing PlayStation with my colleagues after lunch. It clears my head and gets me ready for the rest of the day."
But of course, Dawid also has a life outside the office. And while adrenaline is often part of the activities, his inner nerd also shows in his ambition for his new home.
"I am currently looking at setting up a Raspberry Pie to provide an extra layer of security to my network. Since I have my own place now, I can finally start working on small projects such as this one. It's really exciting to get to do this kind of stuff."
And perhaps his early days in the smart tech startup planted a seed for future interests.
"I'm also wanting to build a smart mirror for the hallway."
But why not just build a whole smart home?
"Well, that's the dream."
Jump on board
"Shape is great for people, who are relocating. They make the transition really easy by helping with housing and all the documentation. And since there are so many people from all over the world, it's easy to adapt and make friends. It's a very open environment."
Could Shape perhaps be your next place of work? We're currently looking for iOS Developers among other positions. Check all of them out here.