It all started with an iPhone 4 and immense curiosity for IT. Meet Casper Riboe, iOS developer at Shape and huge retro video game and console enthusiast. Casper is a seasoned developer, who loves helping out his fellow teammates and cracking the code that you just can't seem to figure out. Watch this introduction and read more about him below.
More Than a Degree: The Skills that University Couldn't Teach
"My education is pretty straight forward. I started coding in high school, then went to university to study software development. What wasn't so straightforward was that I spent so much time on the things that I found interesting and useful, that I neglected school work a bit. Of course it meant that I couldn't finish my degree, but I had already learned what I needed to to start doing mobile development so it didn't make much of a difference."
Actually, Casper started as a student developer at Shape, and when he stopped going to university he came onboard full-time.
"I had learned so much out of school about coding that my education didn't give me. I very much ascribe to learning by doing, so I think I learned much more from working at Shape than going to school.
Casper really isn't a morning person. Let's face it – who really is? BUT when it comes down to what he's really passionate about he puts in 110%, even if that means getting up at 8am for a lecture, he doesn't even have to attend.
"There was still a lecture at the university that was interesting, and since I still knew the schedule, I decided to attend even though it was really early in the morning for me."
Thankfully, it's not mandatory to come in early at Shape, which makes it a great match for Casper. Some people are very bookish, while others thrive by getting their hands dirty. The second person is Casper.
"I've never been good at sitting still and I've always had a flair for IT and learning by doing. That's probably also part of why that's what I ended up doing for work. Getting recognition and being really good at what you do is very satisfying."
ADHD and Coding: An Unlikely Therapeutic Pair
Although, it's funny how someone who can't sit still ends up sitting and coding at Shape.
"I have ADHD, so I daydream a lot. Coding makes me focus. It's very therapeutic and I relax when I code. However, it can also have the opposite effect. Sometimes I get too carried away and it ends up consuming me, and I can't let it go. I don't know if it's the code's fault or my ADHD, but then it becomes a game."
And Casper is no stranger to gaming. Actually that's a very big part of who he is.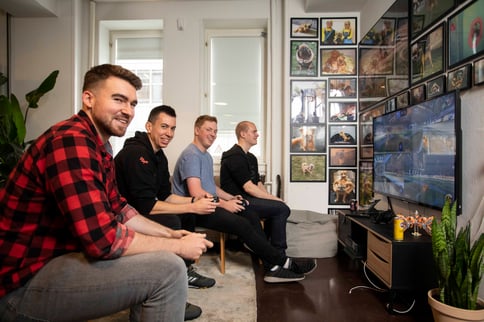 "My coding days actually started with making platform games in high school in GameMaker: Studio. Then I discovered I could get them from a computer and onto my iPhone and on Android. Developing a game became like a game within a game, almost."
The iPhone 4 Epiphany: The Phone That Shaped a Career
Casper has been a part of the Shape family now for almost seven years as an iOS developer, and he's worked on a little bit of everything making him a little bit of an office and code wizard.
"I changed my Slack bio from mentioning my take-away preferences to wizard, because I think that title describes me better now."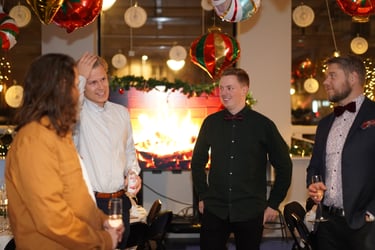 And Casper is a person that many Shapers come to with problems, questions, and challenges.
"I get really happy when people think to ask me or recommend that other people ask me. I love to help out. Maybe a little too much sometimes. I could just give some pointers and a direction, but I like to do more and be a part of it. And maybe even help out with other issues that may arise."
Casper even started in Shape in sort of the same position as he has now – putting out fires – however, with just a smidge more knowledge now than back then.
"When I first started at Shape I got thrown into a project written in Objective-C (an old iOS programming language), which is something I had never coded in before."
And how did he even hear about Shape?
"An Android developer from Shape Games came out to the university and did a talk and while he was talking I took a look at the website. When I saw the LEGO counter at the bottom I was sold. I was a huge LEGO kid, so that was pretty cool."
But surely Shape wasn't the only option?
"There were a few companies that seemed really interesting but they also seemed more corporate with their suit and tie, and I really liked the laid back approach that Shape came with."
He quickly learned the ways of the office and became a part of the DLG-team and later platform lead for iOS. But why iOS and not Android?
"I just really wanted the iPhone 4. I had seen it in magazines and in the Apple Store in Munich on the way home from a summer vacation, and I just really wanted it."
Surprise, he got it. And the rest is history.
Never a Dull Moment: How Every Day Brings New Challenges
After two years at Shape, Casper was borrowed to work with a VERY BIG player in the market.
"Not only is it cool for Shape to be contacted to help with this big, secret project, but the fact that they chose me to do it is really special."
And when Casper returned to Shape 10 months later he got to work on some other really big, prestigious projects, before landing the role he has now in the OK team – a place where he's very comfortable.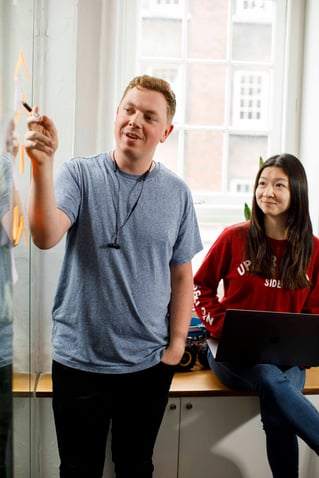 "I think my strength is that I am very adaptable to change, which is good where I am now. I love that not every day is the same and I can go to work and have to roll out the firehose and put out different fires. It's thrilling."
But not every hour is action packed, there's also time to research and satisfy his curiosity.
"It's nice that we get time to research and learn new skills at the office. That definitely makes me a better developer."
But it's not just at work that Casper satisfies his curiosity. It also shines brightly through his passion for retro video games and consoles.
"Most recently I started playing around with the old Game Boy camera. Changing lenses and taking good pictures can be a challenge, so I'm trying to connect to an iPhone so you can take pictures without the Game Boy shaking, or even do a live feed."
You can just see his face light up and eyes sparkle when he talks about his passion. It almost made me want to go out and buy a Game Boy. But it's not just Game Boys Casper messes about with. He actually helps out at a video game store restoring old consoles – another way to satisfy his passion for retro video games and consoles.
But what game is his favourite?
"That's a hard one. I have two. Super Mario Land 2: 6 Golden Coins and Pokémon Emerald."
How about your favourite console then?
"It's almost weird that my favourite console is not one that I can play my favourite game on, but I would have to say PlayStation 2."
More Than Just Gaming
Casper is more than a player of retro video games and consoles, he's a collector. You would think that one PlayStation 4 would be enough, but here the answer is three of course.
"I have two numbered ones and one regular. Some of my consoles are in parts too."
But does he display these games and consoles then?
"I have both Pokémon Crystal og Pokémon Yellow in their original boxes with manuals and everything, all in pristine condition. I wish they were on display. I'm actually looking for an apartment with an extra bedroom, so I have a room where I can display my things and work on my hobby projects."
So, why this hobby you may think?
"It started with the original grey Game Boy and it just grew. I smashed it with a hammer and said it broke to get a newer one, then we sold that one to get a newer one, and then it became a PlayStation 1 and so on. Video games just relax me. I even have one at my desk, so I can play when my brain needs a little break."
Coding and playing video games is a lot of sitting down for someone, who can't sit still, so of course there are other hobbies that Casper enjoys.
"I'm also a ski enthusiast."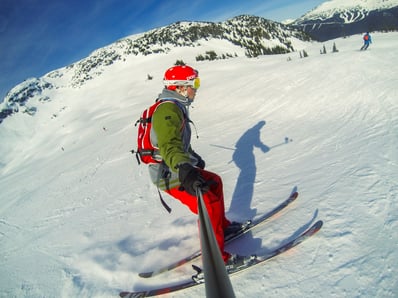 And what's the favourite destination?
"Austria! Although it's also the place where I get hurt the most."
But a concussion, busted knee, and a chipped tooth is not going to stop Casper from doing what he enjoys the most. And of course he made a ski tracking app because his work is also very much his hobby, and why not?
Come Join Casper at Shape
"Shape is a place, where there's room for everyone. We're a group of very different individuals who somehow fit really well together – that's what I really love about this place."
Could Shape be your next place of work? We're always looking for great talent to join our teams, so take a look at open positions right here.