This month we're introducing Villads Riber Mink Commercial Director at Shape. Villads joined Shape in the late summer of 2021 and has an impressive background from providing professional tech assistance in primary school to working his way up the ladder and reaching his professional and personal goals.
Villads has been ambitious since he was a child, and at the age of 13 he started his own business with a friend helping out smaller companies and private persons with basic IT such as setting up printers and Wi-Fi or converting to Windows XP – yes this is a few years ago.
But how did he know how to do all of this, you may wonder?
"I just had a general interest in computers and learned by doing. We also created websites, but there seemed to be more demand for IT assistance. Things weren't as well integrated back then as they are now."
And Villads continued this venture all through primary school and high school, and here he created a website for a friend he knew from the skate and surf world that he's a part of. This experience gave him the opportunity to work at a surf/ski/skater shop, when he moved to Copenhagen after high school, where he split his time between working the web shop and the floor.
"Cut to four years later, and I had four employees under me, and the web shop accounted for half the revenue."
Getting the right education
Villads moved to Copenhagen to begin his education at ITU – IT University of Copenhagen, where he was part of the first generation studying Global Business Informatics.
"This was an education that was building a bridge between business and innovation and how to create new digital products. And after I finished that, I continued on with the master's in digital Innovation and Management."
Here he decided to specialise in two areas, namely process innovation and business modelling – perfect for his ambition to help companies with their digital strategies.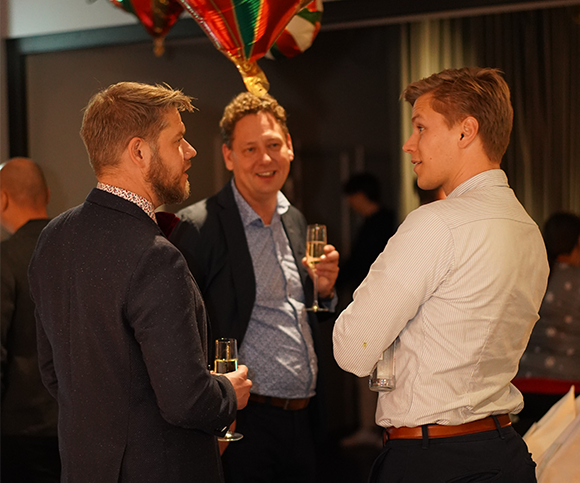 Moving up the ladder
While studying, Villads said goodbye to his position at the surf/ski/skater shop and got a job at Mærsk in their ERP programme, where he got to see how a large corporation operates. But after a year it was clear that his interest in IT was not with the implementation part but the strategic and business side of it.
"About half a year before I handed in my thesis, I got a job as a management consultant, where I got to work with digital strategy and analysis, something that really fit well with my education and interests."
And Villads ended up staying there for five years going from junior consultant to consultant to senior consultant. But there was more to be learned, and this time it was leadership.
"I wanted to learn how to be a good leader, and I wanted to see it in action."
So, he did the only logical thing and contacted a director of a very large Danish company and asked if he could be his apprentice.
"I got a job as Business Development Manager, which was the directors right hand man, and after a year I was ready to be in charge of my own department, which is where I was up until I started here at Shape."
But why Shape?
"It was an opportunity to get back to a place, where I could use my competencies with business understanding and digitisation and get a little closer to the end user."
Furthermore, it was an opportunity to figure out if being a director was something he could do himself. Many new things happened at Shape this year, which prompted a need for a dedicated commercial director, who's able to take Shape to new and exciting heights.
"My ambition is to have Shape be a well-oiled machine and a growing business, alongside it being a really great place to work."
So, what is the best part of working at shape?
"There's a lot of focus on doing things right and in the right way. We're not obligated to take on certain projects – only the one's we believe in and feel we can do well. And on top of that we get to work with some really exciting clients."
And it's not just the clients, who are cool.
"It's a modern environment to work in. Not a lot of hierarchy, which might be easy enough for me to say given my position, but that's just how I view it."
Making a difference
When Villads is a part of a project his role is to have the strategic and business overview and make sure that everything is being done right and brings value to the client.
"The best projects are the ones where we make a real difference for the clients. When we can increase value for our clients and their customers through a digital solution is where it gets really exciting."
But Villads is also responsible for Shape's top line and the commercial team.
"I have to make sure we meet our sales goals, while making sure that we get the right volume of projects. And of course, that my team and everyone around is doing well and have what they need to succeed with their tasks."
While Villads has many different talents, he's particularly good a conceptualising and taking something abstract and making it tangible, while having excellent knowledge of business and what creates value paired with a pretty deep technical understanding due to his background in IT.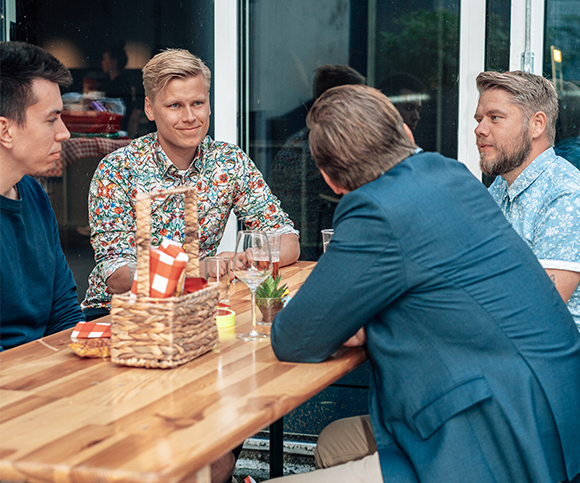 So, who is he?
"I have a role that requires me to often be serious and very professional. But I also meet the clients with a genuine human interest."
Because talking strategy, contracts, and deadlines can often be a little heavier than cool designs and fun features.
"I have to make sure that things don't go off track, so I do have a serious demeaner about be."
But is that also the case around the office?
"Here I'm probably a bit lighter. I want to be seen as trustworthy and happy. Because I'm actually almost always in a good mood."
Sometimes, however, laser focus may overshadow the happy exterior.
"My wife says I have a resting bitch face. But that's just how I look and not at all how a feel or act."
Actually, you wouldn't have guessed it with his serious role and corporate look, but Villads comes from a very creative home with an artist mother.
Spending time with family
Villads's softer and more creative side comes out in spades in his free time. Although free time is a term used lightly, since he has three wonderful kids, who take up most of his hours outside the office. Luckily, they enjoy the outdoors as much as Villads.
"We really enjoy going into the woods and making bonfires and things like that. And they also really enjoy the water. That's something I have passed on to them."
Because do you remember Villads's early days making web shops and working in surf shops? Well, that was more than just a job, it's a hobby that he very much enjoys. But if you ask him what he's really nerdy about, you won't just get one answer.
"I'm more of a generalist than specialist. I like exploring new things and learning the basics about different things. Maybe just try everything?"
Come join us
"There are two reasons why you should join Shape. One: The culture is unique. There is room to be yourself and have fun and really enjoy going to work. And two: It's the place to be if you want to work at a company, where we create the best products in the industry."
Villads's team is growing, and perhaps you want to be a part of it? We are currently looking for a Business Developer, Senior Business Developer and Junior Business Developer among other positions.