In today's digital world, apps have become an increasingly popular channel for consumers to engage with businesses. With the rise of apps comes a greater opportunity for companies to increase their revenue and reach more customers through mobile channels. Recent research has shown that app revenue has grown 100% over the last three years and now accounts for over 50% of eCommerce revenue in the Danish market. This is great news for businesses who are looking to capitalise on this trend by providing convenient solutions for their customers.
In this blog post, we'll take a look at how apps can help your business grow, and why they should be part of your overall strategy moving forward.
The importance of the app channel
The app channel is quickly becoming the preferred platform for businesses to reach their current and potential customers. Today we spent more than 1/3 of our awake hours on the mobile. 1/3..! Studies have shown that apps are now responsible for nearly 90% of mobile media time for users, with an increasing number of consumers turning to apps as their primary source of digital engagement. This poses a great opportunity to consider how you could leverage apps as part of your overall channel mix, since we also know that there's a direct correlation between user engagement and revenue on your platform.
We've now even gotten tools that can help us mitigate some of the app's weaknesses, as they've had a long way to a download through the App Store vs. websites. Although this has been mitigated today with e.g., App Clips - a faster way to download apps without going through the App Store.
From Apple's AirPods to CarPlay – a large ecosystem
The overall hardware and software landscape have continued to grow over the years, even though Apple has not released a new hardware product since 2016 (will 2023 be the year for an AR headset?) – with both Apple Watch and Apple AirPods. Since then, the ecosystem has become more consolidated and integrated. As apps continue to become more sophisticated and integrated into Apple's & Google's larger ecosystems, it's essential that developers consider how best to leverage these opportunities in order to maximise their apps' potential and profitability.
At Shape we believe that a two-folded strategy is the way to go – one for which hardware you want to support and one for which OS components you would like to integrate your app with.
On the hardware front, beyond the mobile, properly considering some of the following platforms ensures a better outcome:
Watch
Headphones (Supported via Voice)
Tablet
TV apps
Laptops
Infotainment systems in cars (CarPlay, Android Auto)
Smartspeakers
There's often a tendency to underestimate how broadly these products are integrated. Take for example how much revenue Apple is making from its AirPods bet vs. a broad range of other top tech companies. AirPods are in themselves a larger revenue platform than Spotify, Shopify, Twitter, Snapchat (back then), and are estimated to have sold more than 150 million devices in 2021.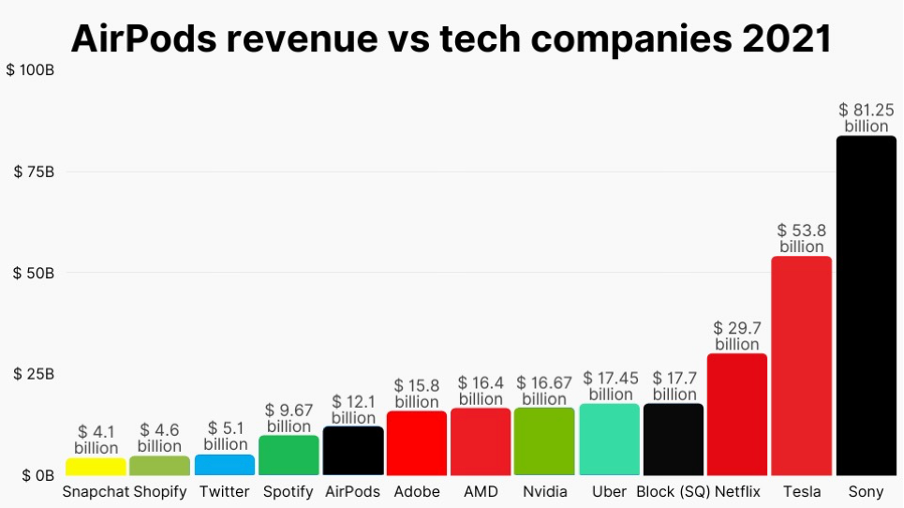 Image by Headphones Addict
Looking at the consumer behaviour it's evident that their loyalty towards other devices continue to grow – the attach rate of Apple Watch in North America has e.g. grown to over 30% of people that have an iPhone. A continuous attach growth development since the launch of the device – evolving from a fashion device to a health focused watch.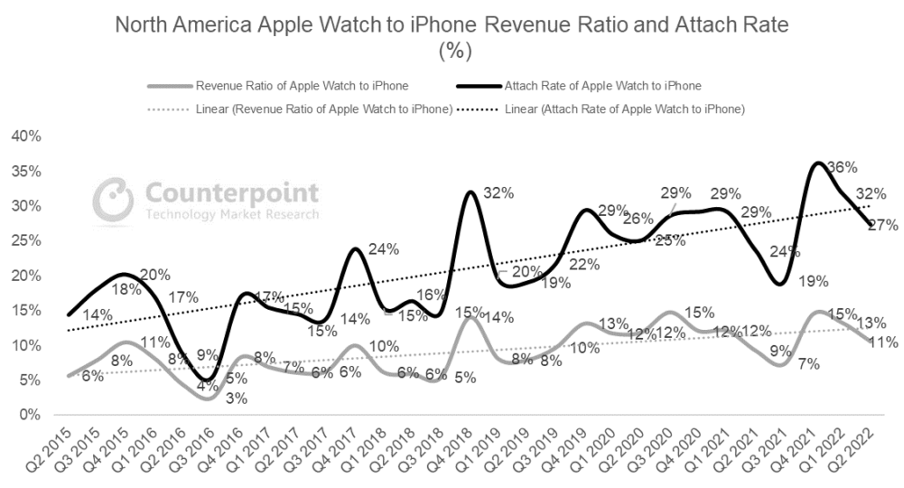 Image by Counterpoint
So even though Apple sometimes launches new hardware products with either slow adoption or a limited feature set to begin with, considering them into your hardware strategy could become very beneficial as you'll be able to have the proper feature market fit for the device when the adoption matures.
It's not only about hardware
Another element that Apple continues to expand its toolkit around is the software we as developers can integrate. The range of services today has become quite broad. Not all use cases will be relevant for everyone but go over the list and think your User Experience into these options, as they can help create superior experiences to your competitor's. You've properly heard of the importance of a great User Experience a million times before, so I'll leave that out this time. Let's instead talk about the opportunities you have to increase it within the OS.
There are several important tools which can be leveraged. We all know push notifications, but did you know some of the other options? This could be:
Indexing your app into the web search
Voice commands to trigger actions while staying handsfree on the mobile (also through Watch, AirPods etc.)
Widgets – to deliver messages on larger real estate directly on the Home Screen.
Live Activities – to push a small part of the experience into the Lock Screen.
Integration of e.g., events into your App Store pages (with option to get App Store promotion)
Picture-in-picture video player to continue the consumption, while the attention drifts away to other tasks
Dynamic island – which keeps pushing relevant information to the user while they browse further on the mobile in other apps, websites etc.
It all sounds fancy right – and perhaps something you don't need straight off the bat, but the potential for delivering new types of User Experiences is very high.
A couple of years ago we created a small demo app to demonstrate the potential of Siri, and how you can change the way you interact with apps completely if you embrace the OS opportunities.
The demo app was made by a couple of our guys, among them Simon Støvring. The app was called Burger Time and imitated how Siri could be used for a full ordering flow of burgers (sorry if we get you hungry now). I believe it's quite powerful and demonstrates how important it will be in the future not only to think of an app as something that goes on when the app is launched, but also embedding it into the OS.
Below are a couple of examples that show some of the other OS opportunities.
Live activities
Live activities live directly on the lock screen and can stay there for up to 8 hours. They are designed to enable iOS apps to provide real-time updates to their users.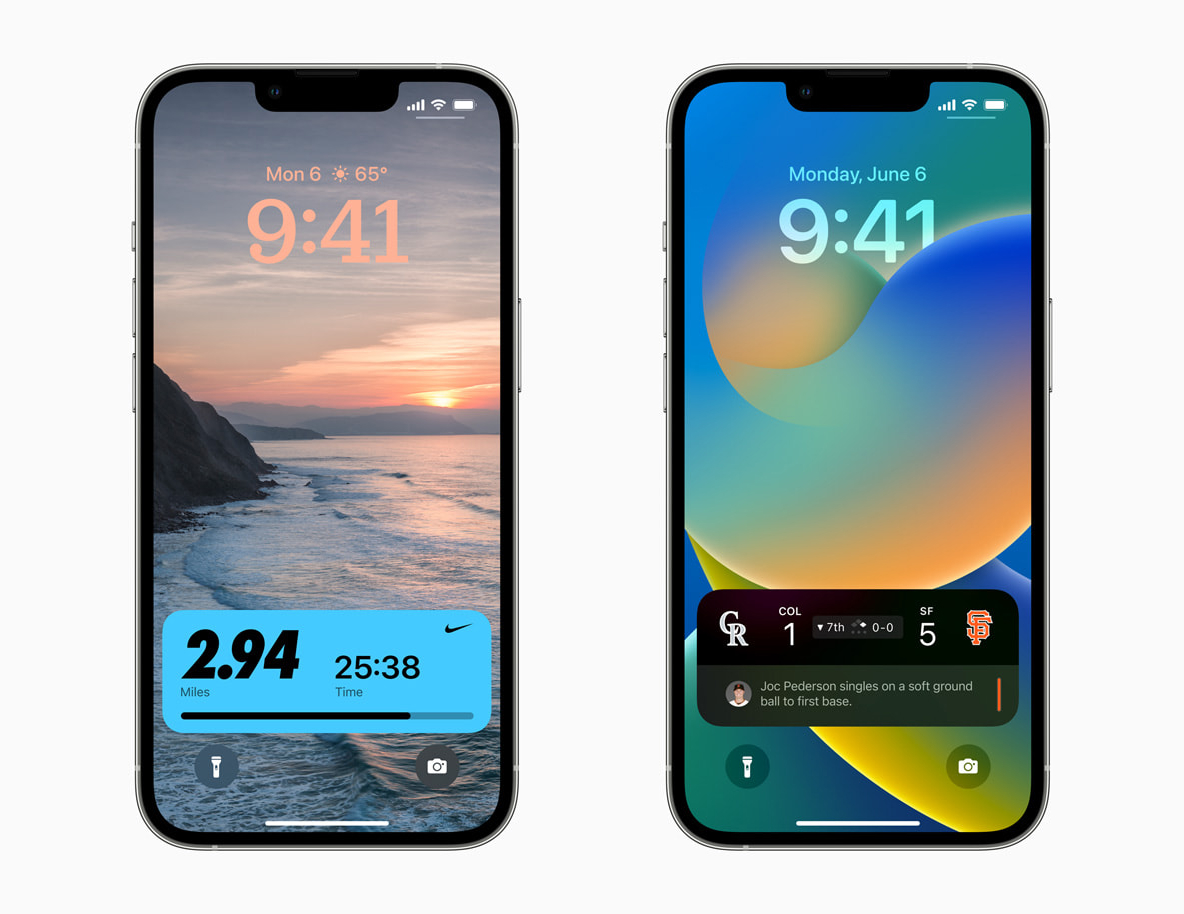 Widgets
Widgets can add parts of the app's content into the OS, so people can consume content from the app without entering the app itself. Both on the lock screen (iOS16) and the home screen.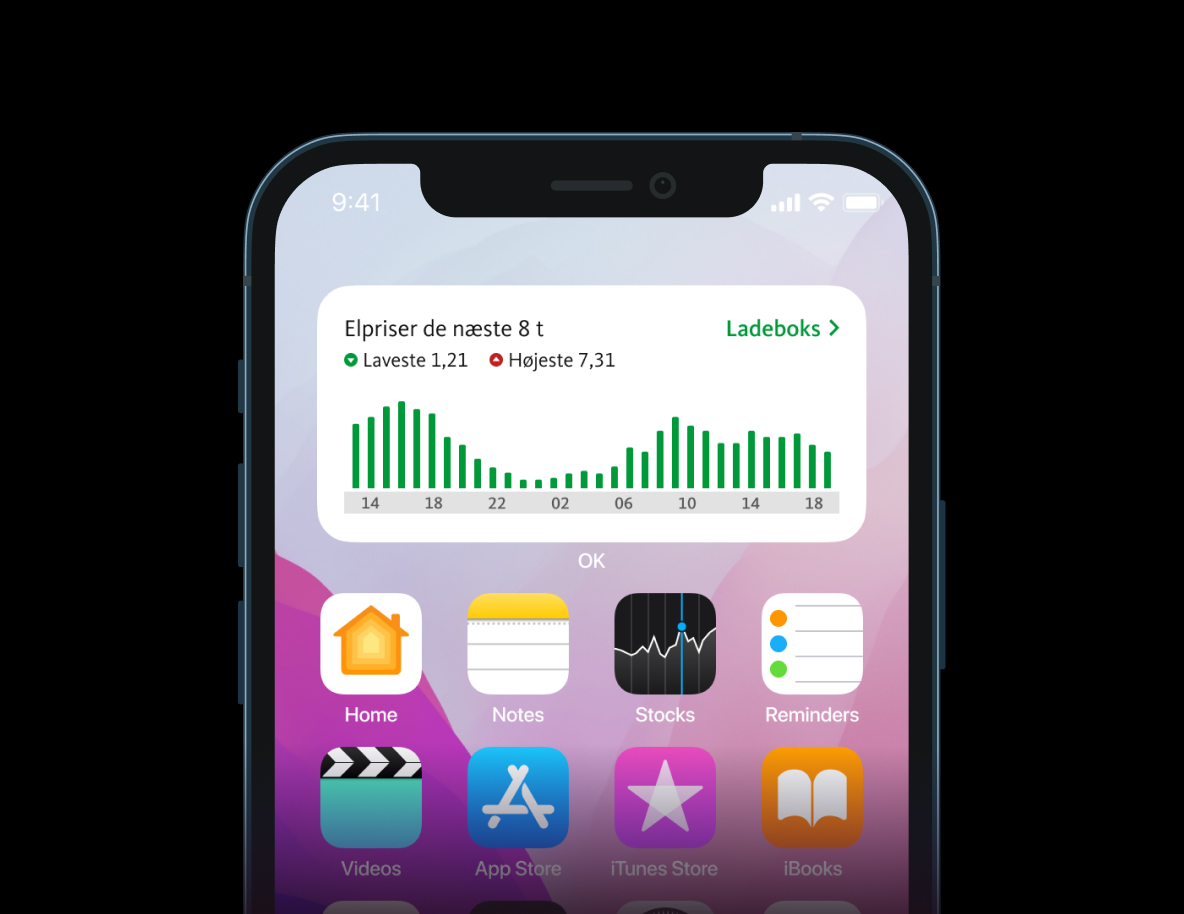 Dynamic island
Dynamic Island is a replacement for the notch that Apple introduced back in 2017 and is a pill-shaped cut out that can change shape and size to display alerts and notifications.
All in all, we call this new movement of how to think about your app for the App 2.0 wave. As we've moved well beyond just creating an app within the app.
Conclusion
The fact is that apps have become business critical like never before, and we continue to have different opportunities within the app space to reach and interact with our customers.
Therefore, we should start considering our channel mix differently when:
We know the consumer have preferences for the app channel
We can give the consumer direct access to apps via e.g., App Clips
The consumers continue to invest into more hardware within their ecosystems. (Why? This is best done through apps)
We have an "unfair" advantage over web etc., in terms of how we can integrate deeper into the OS, so we can easier catch the user's attention.
Considering the whole ecosystem and embracing several of the OS opportunities creates better User Experiences and thus takes better advantage of all present and future business opportunities.
Gain insight into the Danish people's app preferences
At Mobile Copenhagen 2023 we presented the award for Denmark's best app. The award was given based on a study we conducted together with I <3 Mobile.
The App Pulse study from January 2023 is the first study mapping out the Danish People's app preferences. We asked them which app is their favourite and what criteria they have for a good app, which we will present at our offices on 23 March 2023.